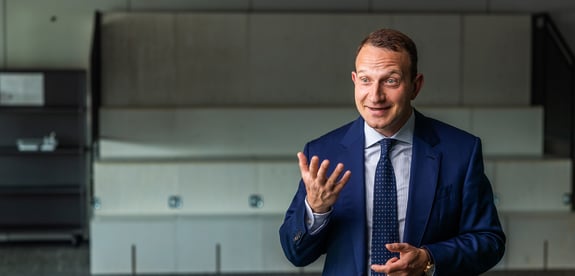 CONSULTING
Taking into account the interdependency of strategy, structure and culture
INTEGRATED GENERAL MANAGEMENT CONSULTING
We advise across industries and use a systemic-cybernetic approach. It is based on the St Gallen Management Model and scientifically sound. We work together with you to ensure knowledge transfer.
We will be happy to advise you
Take advantage of our expertise and let us develop customized solutions for your company.
HOLISTIC
We consider the relationship between all elements of the system.
NON-LINEAR
We consider system dynamics and feedback loops.
EMERGENT
We identify emerging patterns in the system.
RELATIONAL
We design the network of inter-relationships.
TRANSFERABLE
We transfer knowledge and are learning professionals.
PERSONAL
We are there when you need us.
CO-CREATIVE
We work together with you.
ITERATIVE
We adapt to your level of maturity.
DIGITAL
We advise and train digitally.
"Our long-term cooperation with KP in executive development is characterized by intensity, trust and success. From the very beginning, the team around Prof. Dr. Daniel Keller quickly adapted to the structures of our company and our strategic orientation. The valuable impulses for our culture and strategy development have led to breaking down ways of thinking, behavioral patterns and organizational structures and creating the necessary conditions to face current and future challenges."
"KP helped us to develop a strategy, the organizational set-up and an operating model for a new division. The team from KP not only advised us on the various dimensions of technical content, the challenges of change and cultural transformation, but also supported us in the implementation, enabling us to achieve our goal together."
"KP have successfully run an annual development program for the talents in our company for many years. KP responds very flexibly to our needs. We are also currently receiving plaudits for our latest changes - from the participants as well as their managers. Our recipe for constant success is effective co-creation. For this we appreciate Daniel Keller and his team."
OUR KNOWLEDGE & OUR MODELS
Know-How
We are experts in general management, business management as well as communication and coaching. Some of our partners hold professorships at renowned universities.
APPLICATION
Applicability is the key selection and evaluation criterion for the models and tools we use.
Model
The St Gallen Management Model is the only model to date that describes all the necessary elements of management. This creates a common management DNA in your organization.
INTEGRATION
We look at organization-related as well as employee-related management processes, in the short term as well as in the long term.
Innovation
We continue to develop and refine the St Gallen Management Model: principles of agile working, the KP New Work approach, the KP culture pattern analysis or the dynamized digital working methodology are examples.

RESEARCH
We integrate neuroscience and behavioral research. The human behavioral dimension allows us to understand the mental maps of our counterparts. Transformation thus becomes realizable.
Basis of our work
ST GALLEN MANAGEMENT MODEL
The St Gallen Management Model is the only model to date that describes all necessary elements of management and thus provides a consistent, common management language at all levels. It functions as a scientific knowledge generator for mastering complexity. In this respect, it is holistic as it is designed to enable an organization to survive in the long term.
"The St Gallen Management Model is a general management model. It provides a consistent, common management language at all levels. We further develop the model elements, such as principles of agile working, New Work, systemic feedback, cultural pattern analysis or dynamized personal work methodology. We also examine the human behavior dimension."
We are there for you when you need us.
CONSULTATION