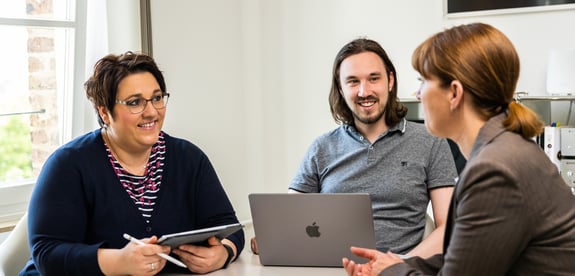 TRAINING & COACHING
Are you ready for change and growth?
WE'LL TAKE YOU TO THE NEXT LEVEL
Whether you want to improve your leadership skills or enhance your personal development - with our modular training & coaching for specialists, managers and top executives, we'll accompany and support you individually.
We'll help you to clearly define your goals and aspirations and set out a roadmap to get the most out of your skills, develop your potential and achieve your goals.
We'll show you the difference professional training & coaching can create.
Contact us today for a no-obligation consultation.
Your development is our focus
OUR TRAINING & COACHING
INDIVIDUAL COMPOSITION
We tailor your training or coaching programme to your needs and create a module portfolio that will follow a personal learning path.
ALL-ROUND SUPPORT
You will receive all-round support from us, consisting of e-learning modules, transfer sessions and individual support tailored to your needs.
SCIENTIFIC BASIS
Our training and coaching content is based on scientifically proven methods. They were created with the help of experts, are coherent and supported by practical examples.
PROVEN CONCEPTS
Our theoretical basis is the holistic St. Gallen Management Model, which is designed to master complexity and enable your organisation to survive in the long term.
HOLISTIC DEVELOPMENT
We take a holistic management approach. Our learning architectures build on your company's strategy and goals and take into account the key areas for you.
RELIABLE SUPPORT
We take responsibility and are there for you. We accompany you from the beginning to the end of the learning and change process and advise, motivate and support you in achieving your goals.
"The modules in our KP leadership development programme cover all the important topics on communication, conflict management, leadership styles and techniques, team management, time management and strategic planning. They have a clear methodology and a balanced mix of theory and practice. Through the additional exchange of best practice, our participants take away many ideas and can integrate what they have learned directly into their everyday work."
"An enriching training in every way, personally and in terms of content, which balanced discussion and concrete application with theory excellently. If you want to develop your systemic thinking, KP is always a very good choice. The team was enthusiastic and we were able to develop a common understanding of the most important points for the next steps in our company."
"For many years, we have enjoyed a committed and productive collaboration with KP in the area of management development. Thanks to the strategically based and at the same time practice-oriented qualification in the areas of management and leadership, we have raised the interaction of our executives to a new level. This further development makes a significant and lasting contribution to our success."
"KP is already a long-standing partner for executive development in our group of companies. Thanks to this cooperation, we have been able to fill many key positions internally."
"At the beginning I was sceptical about whether the management training offered would really provide me with added value, as many of the topics discussed were familiar. However, the varied blended learning concept, supported with the accompanying coaching units and the sound professional knowledge of everyone involved at KP make a change in awareness noticeable, which leads to much more effective work."
"The General Management Programme has made me more aware of old familiar things and, at the same time, opened up new aspects and perspectives. It helped me to take a step back from daily business, to look at topics from a different perspective and to reflect more consciously."
"The many years of cooperation with KP and the continuous support at the highest level have made us much more efficient. The training is comprehensible, clear and sometimes even provocative, the content is always situational, customer-oriented and easily implemented. They create a uniform understanding for practice and noticeable added value."
Learning paths for professionals and managers
TRAINING
Our training concepts focus on sustainable learning success and practical transfer.
In our modular learning system, we develop individual learning paths in the areas of strategy, culture and structure in organisations ("Managing a Business"), leadership and effective work in teams ("Managing People") and personal development ("Managing Yourself").
Our e-learning modules enable self-guided preparation and consolidation. In the subsequent virtual or on-site training, the focus is then on your individual challenges. We ensure optimum transfer between the modules so that you can incorporate current issues and challenges.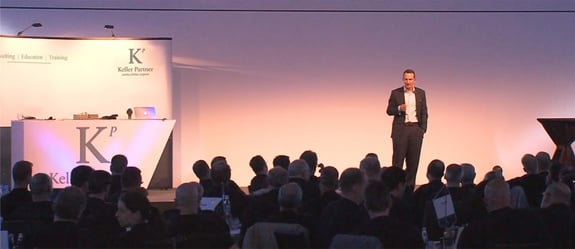 "Disruptive Change and Effective Leadership"
Get to know Prof. Dr. Daniel Keller in one of his inspiring lectures.
Sparring opportunities for top managers and directors
COACHING
We are your sparring partner and supporter with whom you can define your goals and challenges and develop a concrete plan to achieve them. Our proven methods and techniques help you to review your behaviour patterns, reinforce your strengths and approach your goals with confidence and clarity.
Your coaching starts with the basic module "Personality", followed by individual elective modules. You will be accompanied on a 1:1 basis and for the entire duration by experienced coaches.
Systematic coaching structure
1
The basis is our e-learning modules. These contain basic information to develop an understanding of the topic in question.
2
In personal coaching, we deepen your knowledge and together develop ways, techniques and exercises for effective and efficient implementation.
3
In our support sessions between the coaching units, we support you and answer any questions that may arise in everyday and working life.
4
In our follow-up, we collect the results, review your behavior patterns and reflect on your experiences together.
"In the context of filling a new management position in our organisation, we took advantage of KP´s support for executive coaching. The development of our coached executive was absolutely satisfactory and fully met our expectations. We were particularly pleased with the significant development in a number of key areas, which effectively helped our employee to start in his new and challenging role. The coaching significantly accelerated the transition process by addressing current challenges in a timely manner and successfully overcoming them. It is worth mentioning that our employee did not change during the coaching, but rather strengthened his personality. This underlines the effectiveness of the approach."
"The benefits of workshops and coaching are outstanding. The KP approach concentrates on the essentials and provides direct practical benefits - even for topics that do not go beyond abstract phrases elsewhere. Breaking out of the comfort zone, which the KP team encourages, motivates in the long term."
"Taking part in the General Management Programme was very inspiring for me. Together with the coaching support from KP, I took away a number of impulses and insights for my job but also for myself privately. It was a great experience that I would not want to have missed."
"I worked with KP within a top executive coaching program. The program was optimally tailored to me and the coaches were individually selected to suit me. The support was appreciative and transfer-oriented, varied e-learning units alternated with concrete implementation-oriented transfer sessions. Overall, the programme was very worthwhile for me and brought me a big step forward in my personal development. What surprised and inspired me was the trusting interaction in the individual sessions, where I was able to engage in exchange with the coaches on a completely different level. Anyone who wants more than "coaching" is in good hands with KP."
"Even if our managers are already very experienced, supposedly familiar content always has new perspectives and uncovers knowledge that has perhaps been neglected. For me, it is always a Eureka! moment when I try out the theoretical knowledge on my own practical cases in a safe space together with the trainers and coaches from KP within our programmes and to have a prompter at your side who helps when you falter. This means that you are well prepared to overcome any stumbling blocks when applying the methods in everyday business."
"From the beginning of my coaching program, I felt comfortable and welcomed by KP's open and collaborative manner. It was a pleasant experience to work with a team that is not only professional but also empathetic and approachable. I was particularly impressed by the results-oriented coaching and the assistance with personal and organisational challenges. I learned the importance of reflection, I was able to open up my thought processes and discover new perspectives to readjust profound and strategic issues and objectives. I am grateful for the valuable insights I gained for myself and my organisation. I can recommend KP to anyone looking for professional support and a holistic approach."
"New, digital forms of learning and personal, effective coaching related to concrete individual situations complement the professional preparation and accompaniment of leaders in our church by KP. Our needs are fully taken up and met."
"Compared to other previous coaching experiences, I can say that KP-cochaings are modern and one step ahead in terms of methods and approaches. The coaching helped me to achieve my professional goals and take my skills to a new level. I can only recommend it."
We are there for you when you need us.
CONTACT